*The following is part of a series of blog posts researched and written by Mark Clardy, SRM Docent and independent scholar.*
Soundtrack of the American West
The Other Artists
With a few exceptions, previous posts have explored the musical context of paintings by either Charlie Russell or Frederic Remington; in the last two posts, we even listened to their "playlists."   In this blog, we'll return to the "Soundtrack of the West", but we'll listen to paintings by the other artists represented at the Sid Richardson Museum.
We have heard from three of these artists before:
William Gilbert Gaul painted The Pow-Wow in about 1890, as part of the U. S. census for that year.  This painting was paired with the second song of Charles Wakefield Cadman's Four American Indian Songs; see the second post in this series.  For more on Gaul, the Dakota tribe, and the Standing Rock Reservation, see the previous blogs, A Portrait of Standing Rock, and Happy Birthday Gilbert Gaul.
Charles Francis Browne painted Zuni leader Nai-U-Chi in 1895.  The portrait was featured with songs of the Zuni tribe in the fourth blog of this series, covering the music of Native American tribes in the Southwest.
Charles Schreyvogel painted Attack on the Herd in 1907.  This depiction of conflict between Native Americans and cowboys on the cattle trail was included in the seventh blog in this series, Song of the New Hero.  Earlier blogs about Schreyvogel are Art in Motion, and Happy Birthday, Schreyvogel.
Here are some of the paintings by other artists of the West:
William Robinson Leigh
Two paintings in the Sid Richardson Museum collection are by William Robinson Leigh (1866 – 1955, see blog post Happy Birthday William R Leigh).  Oddly, both appear to feature the same man, or at least, the same clothing.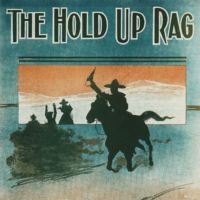 The first painting, The Hold Up (or The Ambush, 1903), has two dangerous looking men, with guns drawn.  The shadows of two horses' heads at the lower edge of the painting tell the story of a hold-up in progress.  Charlie Russell also painted Wild West outlaws in The Ambush (or The Road Agents, 1896).  Now listen to "The Hold Up Rag" by Egbert Van Alstyne and Edward Madden (1912), a humorous take on a train robbery.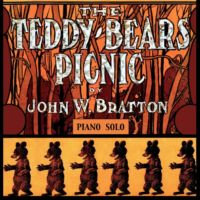 Leigh's red-shirted man finds himself in a predicament in Bears in the Path (or Surprise, 1904) when confronted on a mountain path by a mother bear and her two cubs.  While viewing this painting, it seems fitting to listen to "Teddy Bears' Picnic", a piano solo written three years later by John W. Bratton.  Jimmy Kennedy wrote the well-known lyrics in 1932.
Frank Tenney Johnson
Two paintings in the Sid Richardson Museum collection are by Frank Tenney Johnson (1874 – 1939, see blog posts Happy Birthday, Frank and Stock Show Spirit – Part Four).  One of his paintings, Contrabandista a la Frontera, will be featured in the next post in this series.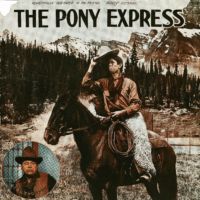 Johnson painted Trouble on the Pony Express between 1910 and 1920.  The "Pony Express" was a monumental effort at high-speed mail delivery which ran only for eighteen months until the first transcontinental telegraph line was completed in October 1861.  Construction of the first transcontinental railroad began two years later and was completed in May of 1869.  Although it was a short-lived business venture, the young and wiry riders of the Pony Express (orphans preferred) had a long-lasting impact on the mystique of the American West.  The Tin Pan Alley song writing team of Sam Lamsdale and Paul Cunningham invite you to "come back with me, folks, to the dear old Golden West" in their song "The Pony Express" (1913).
Oscar Berninghaus
The Forty-niners by Oscar Berninghaus (1874-1952; see previous blog Happy Birthday, Oscar) is so loaded with iconic westward movement and activity that it will take several songs to cover it all.  The painting depicts a couple of California "Forty Niners" (as in "1849") with their pack burro, panning for gold as a parade of westward expansion passes behind them.  "The Days of Forty-Nine" is a cowboy song which John Lomax published in his book Cowboy Songs and Other Fro ntier Ballads in 1910 and 1916; several old time gold rush characters are described in the song.  "The Gold Dust Rag" is a later ragtime treatment of the gold rush by D. M. Headrick in 1911.  It was followed a few years later by "When I Drove the Stage from Denver Down to Frisco by the Sea" (1914), a reminiscence of stage driving days, again by Sam Lamsdale and Paul Cunningham.  "Westward Ho!" by Hugo Riesenfeld and R. A. Barnet (1923) was written for the silent Paramount film The Covered Wagon which was set in 1848.  Silent films of the 1920s were typically accompanied by musicians in theaters, but there was also a sound Phonofilm version of this movie.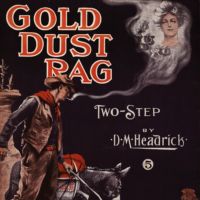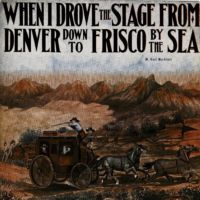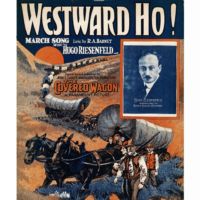 Herbert M. Herget
Ten Indian Studies is a series of type portraits of American Indians by Herbert M. Herget from about 1930.  Musicologist Natalie Curtis collected and transcribed the music from five of these tribes in her 1907 book, The Indians' Book (Apache, Arapaho, Cheyenne, Hopi, Sioux/Dakota).  Composers of the Indianist Movement used such transcriptions in an effort to create music with an authentically "American" sound in the early 1900s.  Indianist composer Thurlow Lieurance also collected his own tribal material for his compositions, which then inspired another Indianist composer to create what would be, in essence, a third-generation composition rooted in American Indian music.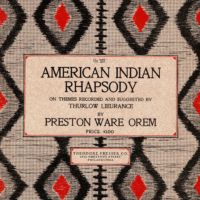 "American Indian Rhapsody" by Preston Ware Orem (1918) is a challenging composition which is an anthology of music from various tribes, some of which are represented in Herget's collection of portraits.  For his piano "Rhapsody", Orem re-arranged several works which Thurlow Lieurance had published between 1906 and 1918.  Of the tribes in Herget's series, three are represented in Orem's ten-part "Rhapsody", and actually comprise most of the piece:  Cheyenne, Sioux, and Crow (Hopi may be as well, if that tribe was the source for the "Pueblo ceremonial song").