Hours of Operation
The Sid Richardson Museum is open by reservation only
Click here to make a reservation or enjoy the museum's virtual programming here.
Admission to the Museum is always free
Museum Hours
Monday – Saturday: 10AM – 4PM
Closed Easter, Memorial Day, Independence Day, Labor Day, Thanksgiving, Christmas Day, and New Year's Day.
Closed at 4PM on Christmas Eve and New Year's Eve.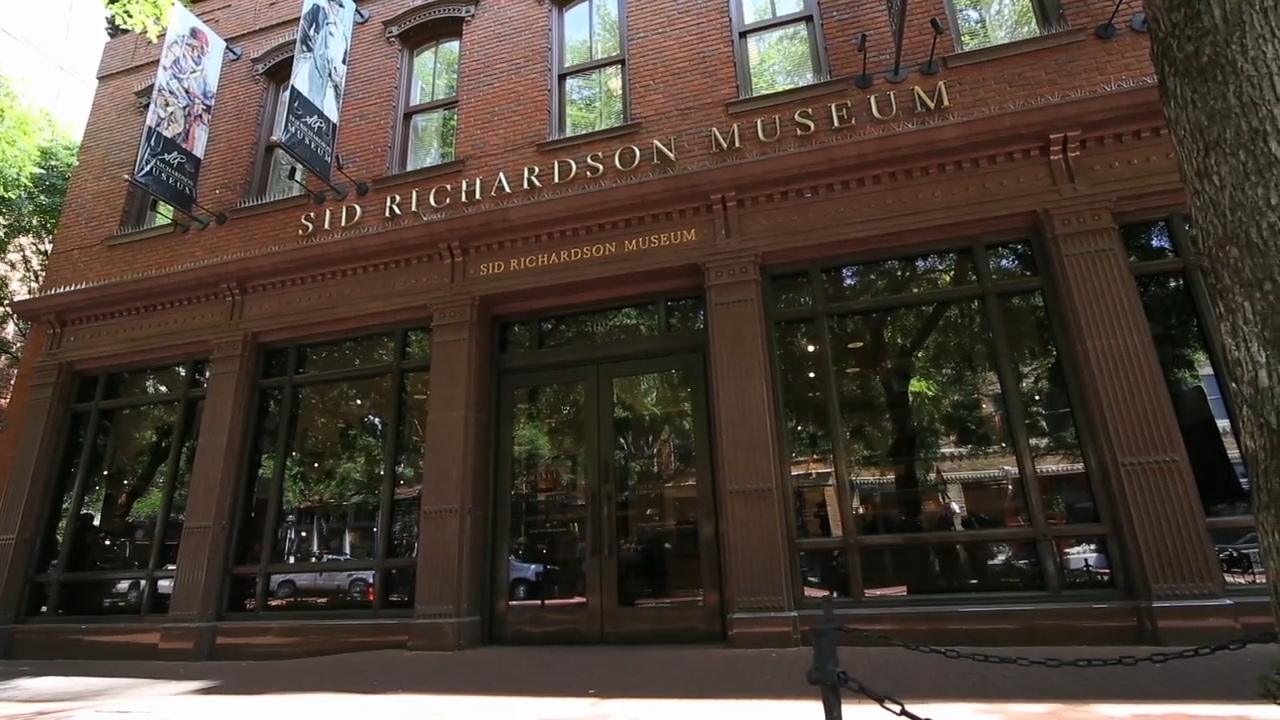 Perfectly Located in Fort Worth
309 Main St
Fort Worth, TX 76102
The Sid Richardson Art Museum is located in the heart of downtown Fort Worth, in Historic Sundance Square. The Museum is close to the best of Fort Worth's restaurant and entertainment offerings and is within walking distance of the Fort Worth Convention Center, Bass Performance Hall, and the Sundance Square Plaza.
Parking
Bring your parking ticket for free validation if you park in City Center Garage I, located at 201 Commerce Street, immediately north of 2nd Street or City Center Garage II, located in the 400 block of Calhoun Street.
The Museum is not offering guided tours of the collection at this time. We look forward to offering this service again in the near future. Please look to our website for updates regarding in-person touring.
Educational and fun events for children and adults
The Museum offers a variety of events that are designed to enhance the experience and understanding of our patrons.
The Museum has a variety of programs and events from lectures and in-depth engagements with the collection to movies and hands-on activities. All of our adult programs are designed to enhance and enrich the Museum experience for adults.
The Museum offers special Family Programs and events to engage and entertain the entire family. From tours that can be enriched by hands-on studio activities to Spring Break and Summer Camp programs, there is something going on year-round.
Teen's Workshops are specially designed to engage young people aged 14-17 who are interested in art history and art making. They include spending time with the collection and exhibits, as well as hands-on activities in our studio classroom such as drawing, painting, and printmaking.
The Museum has gathered and developed a variety of educator resources to support schools in their art education. Books, web resources, and interdisciplinary lessons that reference curriculum standards and primary source materials enhance every learning experience.
Museum Policies
The following policies are in place to protect the artwork and ensure that everyone has an enjoyable visit:
To help us preserve the collection, we ask you not to touch the works of art. Please keep about two feet distance from the works of art.
For the safety of our guests and staff, we require that you wear a face mask, covering the mouth and nose at all times while in the museum.
Please practice social distancing and remain 6 feet away from anyone not in your household or group.
The Museum has implemented increased cleaning of high traffic surfaces and hand sanitizing stations are accessible throughout the building.
Photography is encouraged! Please remember to turn off your flash when taking pictures in the galleries. Tripods and selfie sticks are not allowed. Don't forget to share your photo on Facebook or Instagram @sidrichardsonmuseum.
We ask that all children be supervised by an adult.
Strollers are welcome, however they must be operated by an adult.
Trained service animals are welcome in the Museum (as defined by the ADA), however all other pets are not permitted at any time.
Smoking is not permitted in the Museum.
Weapons are not permitted in the Museum.
Museum visitors are required to wear shirts and shoes
FAQ
Can I use images from the Museum in my book, article, movie, product etc.?
deberrytest
2020-09-29T18:16:55-05:00
Information Desk
Visitor services staff are available to assist guests with information, and local directions.
First Aid
In case of an accident or emergency, please contact a security officer.
Food and Packages
Food and beverages, packages, umbrellas, backpacks, and briefcases must be left at the security  desk.
Restrooms
Restrooms and drinking fountains are located in group entry hallway.
Wheelchair
The Museum is wheelchair accessible and one is available for use. Please ask security.