Opened this month is our new pop-up exhibit, Saddles on Parade: The Artistry of Edward Bohlin. On display through April 2022, the installation includes two saddles and related gear by Bohlin, along with photos and ephemera related to Sid Richardson and his involvement in the annual Fort Worth Stock Show & Rodeo. One such item is the 1947 Rodeo Souvenir Annual. Over the duration of the exhibit, we'll flip through the pages with you and share some fun and interesting features from the annual.
Sid W. Richardson served as a Director of the Fort Worth Stock Show from 1946 until his death in 1959. In the above photo you can find Sid's portrait featured among the other directors on the far right of the second row. As a token of appreciation for his service, Amon G. Carter, Chairman of the Board of the Stock Show, gifted a black leather and sterling silver saddle and matching outfit to Sid, both of which were made by Edward H. Bohlin, one of the leading saddle makers in Hollywood, California who worked for many of the major movie stars of the day. It was one of a set of four saddles that Carter had made and presented to Stock Show officials Mayor F. Edgar Deen, Stock Show Manager; Ernest Allen, Stock Show Vice-President; and W. R. Watt, Sr. Stock Show President.
Amon Carter and Sid Richardson were close friends, evidence of which can be found on the back of the cantle, or saddle seat. It reads "Presented to Sid W. Richardson, Mayor of Primrose Texas." In actuality, Primrose was a cattle loading stop at Sid's Dutch Branch Ranch, which is today located on the eastern shore of Lake Benbrook. An accompanying plaque further exemplifies the sense of humor shared between the two friends:
"We, the citizens of Primrose, as a small token of the affection we feel toward him and appreciation of all that he has done for the spiritual, moral, cultural, civic and industrial advancement of our fine and growing city, present this silver mounted saddle…to our mayor, the Hon. Sid W. Richardson, so that when he rides forth to inspect his vast ranges and huge cattle herds he may do so in comfort and the residents thereof, whether quadrupeds or bipeds, may be properly impressed and show to him the deference and due one of his official position."
The Fort Worth Stock Show has a long history, the timeline of which the Rodeo Souvenir Annual History of Stock Show goes into great detail, from the dawn of time until present day in 1947, the year after the directors and management had celebrated its golden anniversary, or 50 years since its founding in 1896.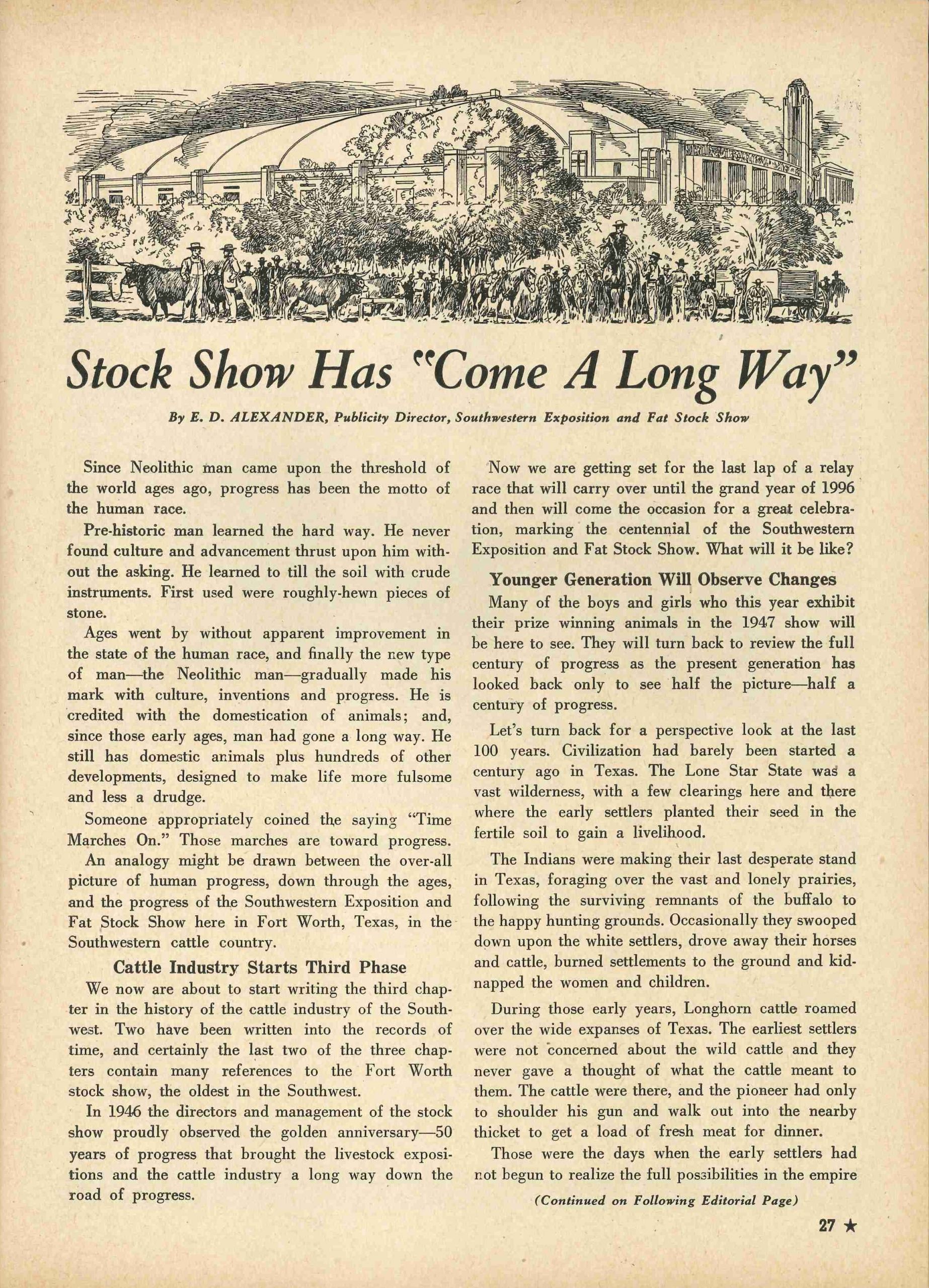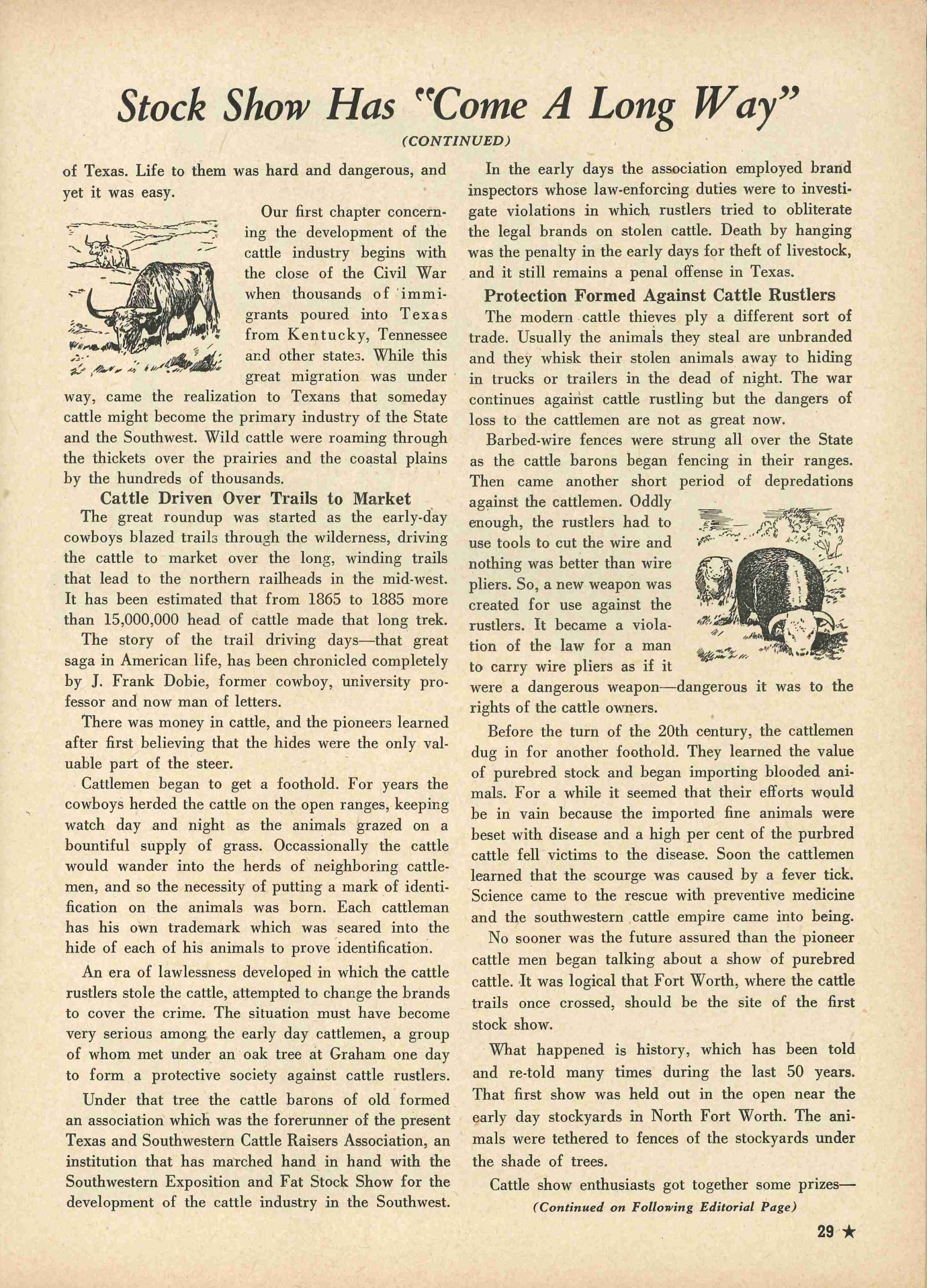 Sid Richardson had his own storied history with cattle, acquiring large ranching operations both in Texas and Oklahoma. In 1936, Sid bought a ranch at San Jose Island, which is located off the coast of Rockport, Texas. There, Sid raised Santa Gertrudis cattle and longhorn.
In its pages, the Rodeo Souvenir Annual details the preservation of longhorns, the "ruler of the plains." Sid Richardson's relationship with the longhorn has ties back to his ranch on San Jose Island, where he not only raised a herd, but also hosted Texas folklorist and author J. Frank Dobie while writing his 1939 book, The Longhorns. Dobie and Sid teamed up later with rancher Graves Peeler to organize a herd of longhorns that were eventually moved to Fort Griffin State Park in 1948. Today, the public can visit the park to see the Official State of Texas Longhorn Herd.