Last week we temporarily installed a display in the galleries of a book from the museum's library by folklorist and author J. Frank Dobie, The Longhorns — originally from the library of Sid Richardson.
Sid Richardson enjoyed a warm friendship with Dobie who, at Sid's invitation, used Richardson's San Jose Island ranch as a writer's haven in 1939 when he wrote The Longhorns. Each print edition of The Longhorns opens with a dedication to Sid, and each of the twenty chapters, illustrated by Tom Lea, is dedicated to a significant individual in Dobie's life:
TO SID W. RICHARDSON

who is attempting to raise Longhorns on his ranch on Saint Joseph's Island, where a part of this book was written, and who has encouraged it otherwise.

An old custom among Spanish bullfighters is, just before a bull is killed, to dedicate it to some individual in the stand. I have many bulls to kill; many individuals have helped me bring them in. Chapter by chapter, I make particular dedications to some of these friends.
Dobie wrote a personal inscription in Sid's copy of The Longhorns, and "branded it" in the upper and lower left corners, as seen here.
I dedicated this book to Sid Richardson. Now I am branding it for him, so that it will have a better chance of not being stolen by some cow thief he entertains on Saint Joseph's Island, where I stayed while I was writing about Sam Maverick's mavericks. –Frank Dobie 3/12/42
Dobie later helped Richardson in his mission to preserve the Texas Longhorn by selecting a herd to be purchased by Richardson, and finding placement for the Longhorns in Texas state parks.  The herds were later consolidated and in 1948, moved to Fort Griffin State Park. Today, Fort Griffin State Park maintains the Longhorn herd. If you would like to learn more about the author, you can read about a short biography about J. Frank Dobie – writer, teacher and folklorist – at the Texas State Historical Association's website.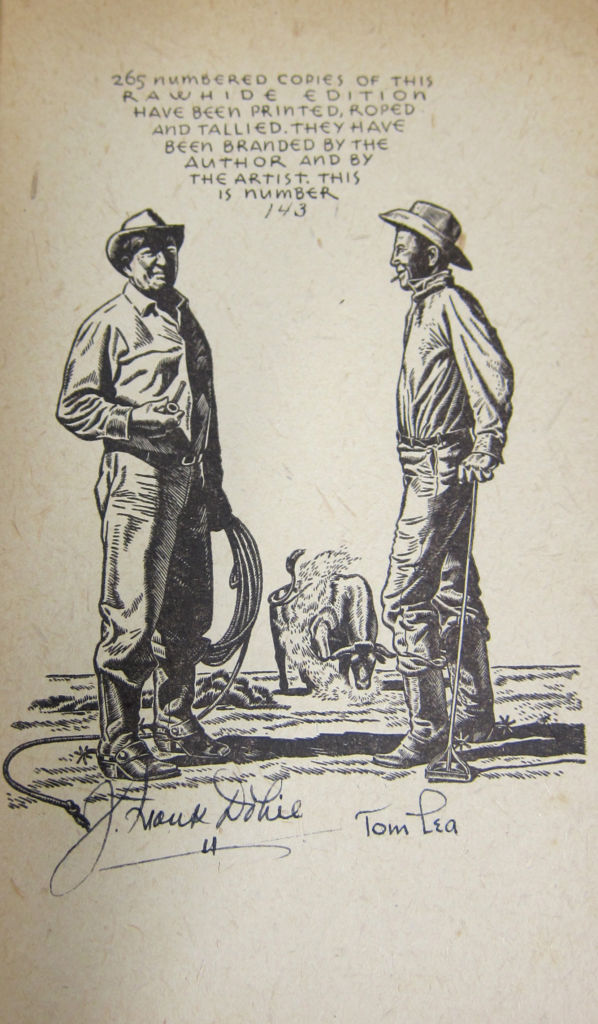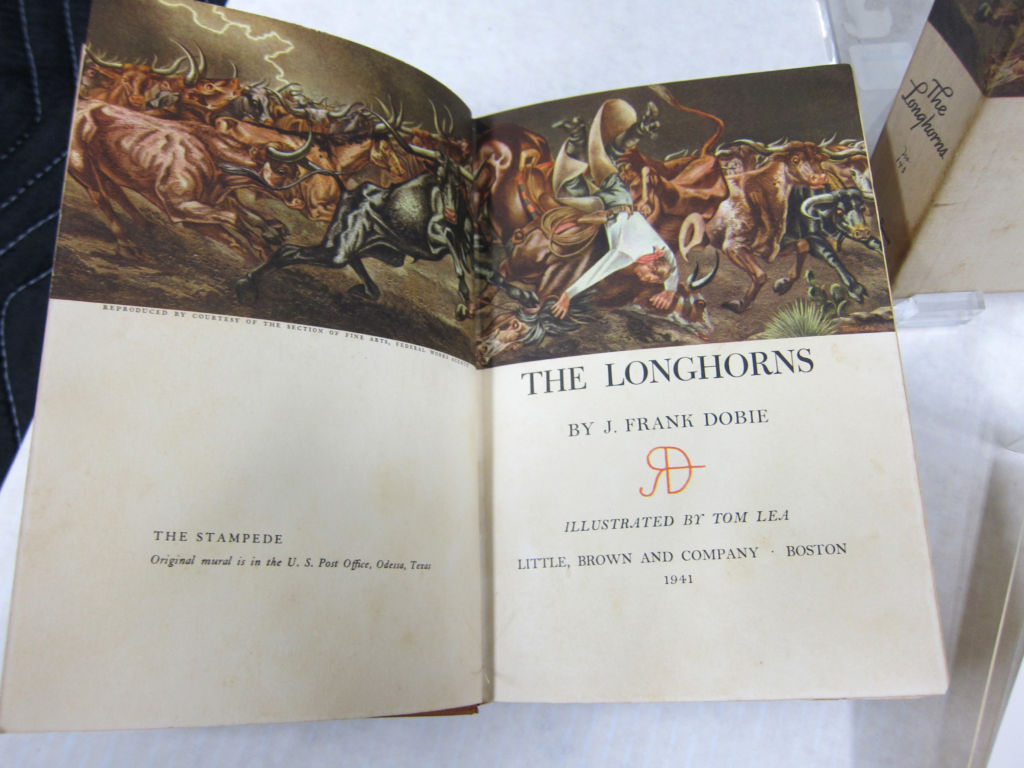 The book is illustrated by Tom Lea, an artist who may be familiar to many Texans. The jacket-frontispiece is reproduced from a mural he painted for the U.S. Post Office in Odessa, Texas, by courtesy of the Section of Fine Arts, Federal Works Agency, Washington, D.C.
The book will be on display until April 17. Stop by and enjoy this little piece of Texas and museum history!