"In the city men shake hands and call each other friends but it's the lonesome places that ties their harts together and harts do not forget."

– Charles M. Russell to Santa Fe [Tom Conway], March 24, 1917
Last week we welcomed back home one of our own – Charles Russell's Man's Weapons Are Useless When Nature Goes Armed. Originally hung in Sid Richardson's dining room at his San Jose Island home, this painting is a favorite among our visitors and had been out on loan with the traveling exhibition, Harmless Hunter: The Wildlife Work of Charles M. Russell, which was organized by the National Museum of Wildlife Art and the Charles M. Russell Center for the Study of the Art of the American West, University of Oklahoma.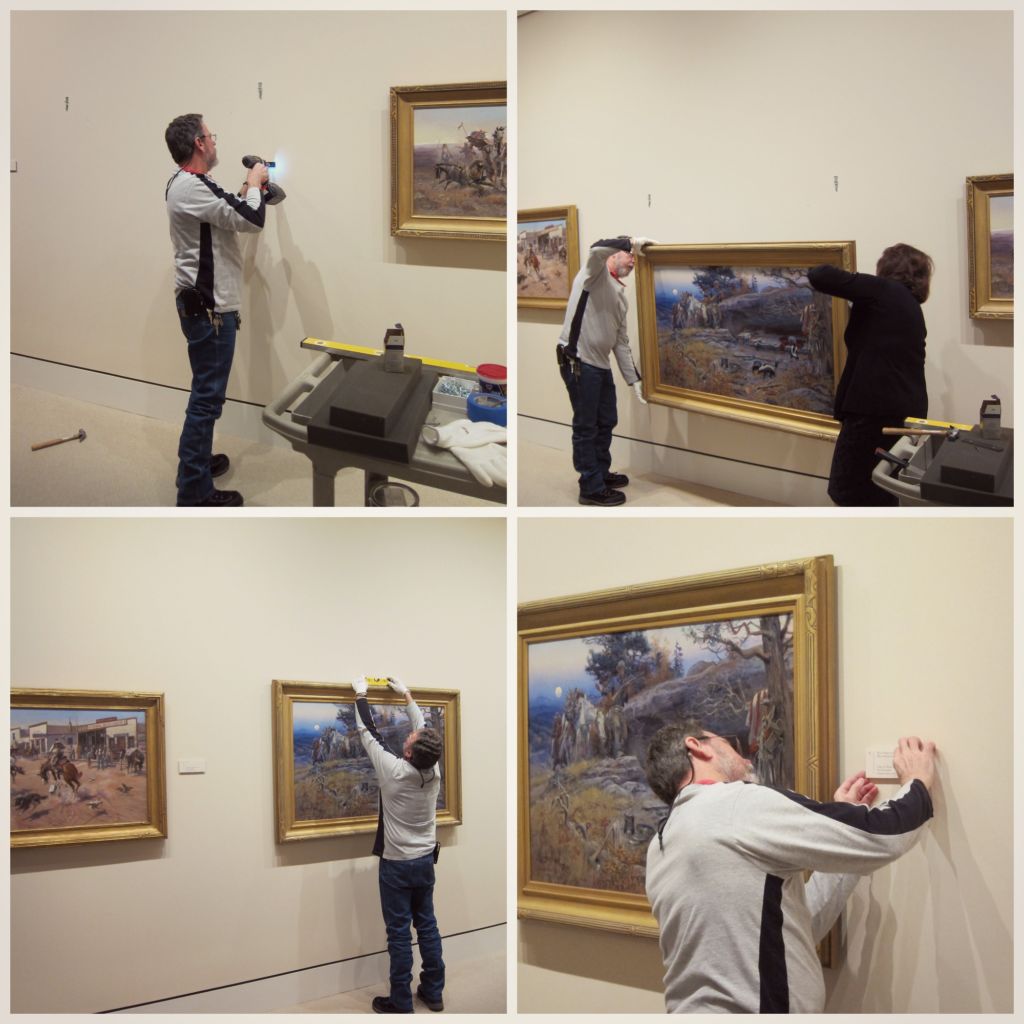 After completing Man's Weapons…, Russell gifted the painting to his good friend, Howard Eaton, a pioneer dude rancher. Originally from Pittsburgh, Eaton had settled in North Dakota in 1882 and then relocated permanently on the eastern side of the Big Horn Mountains once his dude wrangling business gained a popular reputation. In fact, the Eaton dude ranch is still open today on Wolf Creek and operated by the fourth and fifth generations of Eatons.
The ranch sits near some national historic sites and parks. Howard Eaton had expanded his operation to include trail rides through the nearby Glacier and Yellowstone National Parks and to the Southwest along the Grand Canyon. Russell accompanied Eaton on several trail rides, including a camping trip through Glacier in 1915 and 1916.
The artist and his wife Nancy joined an Eaton party on a particularly memorable excursion through Navajo country and the Grand Canyon in Fall 1916 and kept a photo album of the trip, which shows Charlie relaxed and happy. The couple had been on an excursion to the Southwest before, and were both completely enchanted by Arizona. Nancy later recounted to a friend, "This trip has been a trip of memories. Chas. just loved it all and had such a good time every day then around the camp fires at night they always had the big talk."