In the spring of 1878, Remington wrote to his Uncle Horace Sackrider, "I am going to try and get into Cornell College this coming June and if I succeed will be a Journalist. I mean to study for an artist anyhow, whether I ever make a success of it or not."
Unfortunately for Remington, Cornell University did not have a journalism department at that time. Fortunately for us, Remington enrolled in the newly created School of Fine Arts at Yale instead. Our blog featured a previous post about Remington's time at Yale, which was short. His collegiate career last about 1 ½ years, having decided not to return to college after the holiday break that year due to the death of his father.
During his time at Yale's art school, Remington was one of 7 men, along with 30 other art students, in both the first art school at an American university and the first coeducational school at Yale.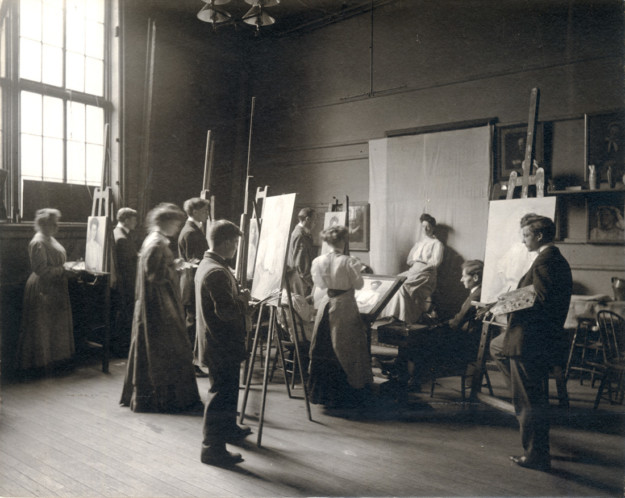 Yale opened its School of the Fine Arts in 1869. From the beginning, the school included women, which was in accordance with the wishes of its founders. The new institution was to be "a school for practical instruction, open to both sexes, to follow art as a profession." In fact, the first person to earn a bachelor of fine arts degree at Yale (in 1891) was a woman.
Long after Remington had left Yale and was in the height of his artistic career, in 1900, the dean of the art school, John Ferguson Weir, proposed that Remington be awarded a Yale degree, despite the fact that the former student had completed only half of the three-year course of study. The letter from Weir on display in our current exhibit, Another Frontier: Frederic Remington's East, outlines for Remington what was required of him for the awarding of the degree. Lest you think this was an honorary degree, the faculty minutes indicate that Remington was eligible for an earned one. How is that possible?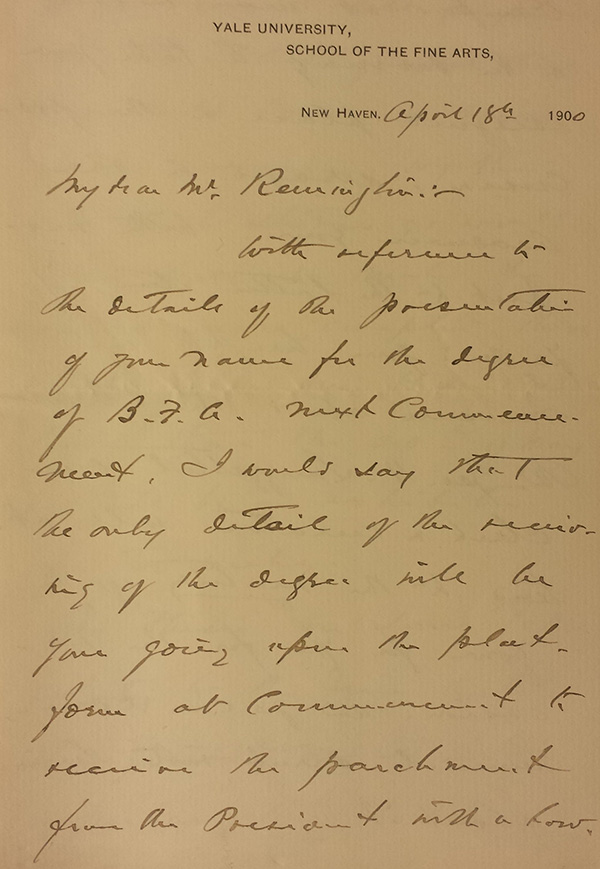 Dean Weir treated the BFA almost like an honorary degree. The degree was intended for "students who have made special attainments and have given evidence of marked ability in their work." "One could not register for it or get it in course," stated drawing instructor George H. Langzettel, who had received his own BFA in 1898. Rather, Dean Weir "kept in touch with the record of students after they had become professionals, and then invited them to receive it."
Today, U.S. News & World Report ranks Yale School of Art as number one in Fine Arts. In addition to Frederic Remington, other notables artists who have graduated from Yale include painters  Chuck Close, Mickalene Thomas and Kehinde Wiley; sculptors Eva Hesse, Nancy Graves, Wangechi Mutu, Martin Puryear, and Richard Serra.