Have you enjoyed getting better acquainted with our staff this summer? Our Meet & Greet series is nearing the end. But first, let's catch up with Debi Carl, Visitor Services and Store Liaison.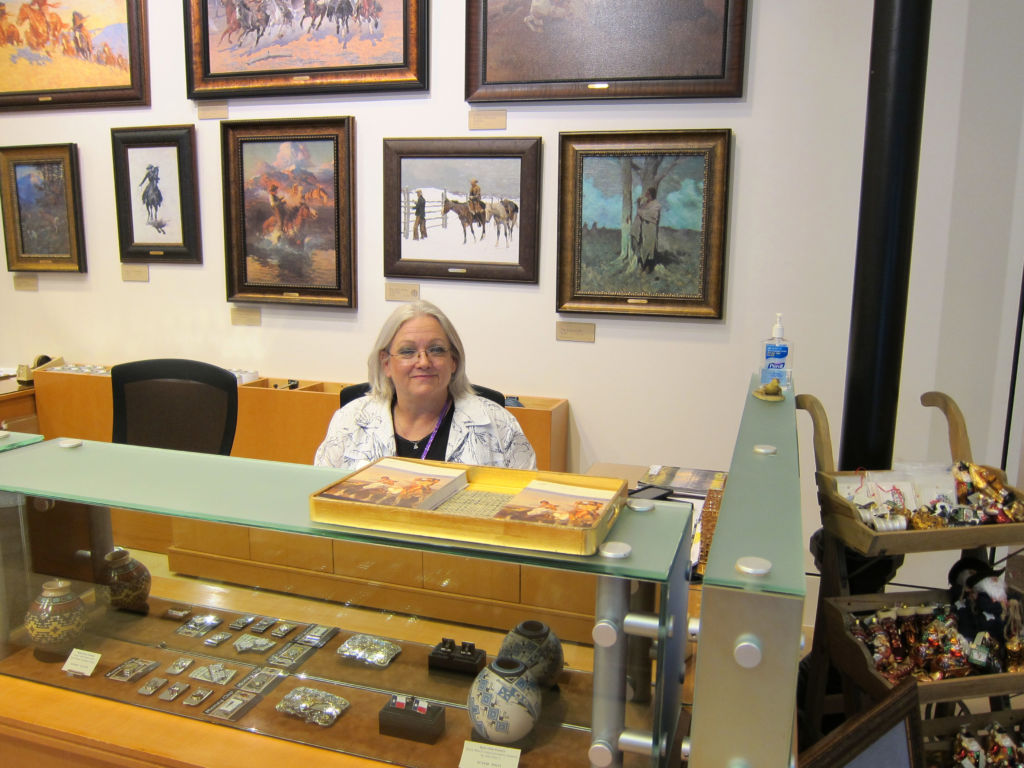 Describe your job.
I am usually the first person visitors meet when they enter the Museum.  I greet visitors, distribute gallery guides, answer questions pertaining to the Museum or Mr. Richardson and can give directions to almost anything in Fort Worth/Tarrant County. I also assist store staff, if needed.
What does any average day entail?
My daily duties will vary.  Most of the time I am in my place at the entrance to the gallery.  Occasionally I will work upstairs answering the phone.  I make sure the front desk is fully stocked with gallery guides, maps, etc. and that the brochure rack is full.  I order brochures from other Museums as needed.  I am always available to assist any other staff member with any project they may have.
What's the best part of your job?
The best part of my job is getting to meet and visit with people from all over the world who come into the Museum!  I am capable of having a heavy Texas drawl on occasion.  When we have international visitors I tend to exaggerate that drawl to make them smile.  I almost always wish visitors "Happy Trails" when they leave the Museum. I can't tell you the number of times I have heard them singing that song as the door closes behind them.
What's the most interesting fun fact you've learned about the collection/museum?
The fact I enjoy the most concerns Mr. Sid and Amon Carter.  They both used the same art dealer from New York, Bert Newhouse, to help them acquire their artwork.  Mr. Newhouse would come to town to sell paintings and whichever man he met first got the sales pitch for the art piece.  Mr. Newhouse would then make an appointment with the other man and do the same sales pitch.   Mr. Sid & Mr. Carter got together over dinner shortly after these meetings and decided among themselves which one would purchase the artwork.
Favorite work in the collection? Why?
My favorites have changed over time.  When I first started working in the Museum I was quite drawn to Charles Russell.  Over the years I now appreciate the work of BOTH of the primary artists in our collection – Charles Russell AND Frederic Remington. However, my favorite painting at this time is Bears in the Path by William Robinson Leigh.  I love the expression on the hunter's face as he rounds the bend to find a mama bear and her two cubs.  The horse's expression is great too…both of his ears are straight up!  The question begs to be asked: which one will back up?  The hunter or the bears?