Each of our volunteer docents are unique individuals with an array of varied interests and skills. Continuing our blog series dedicated to our docents, today I'd like to introduce you to Mark.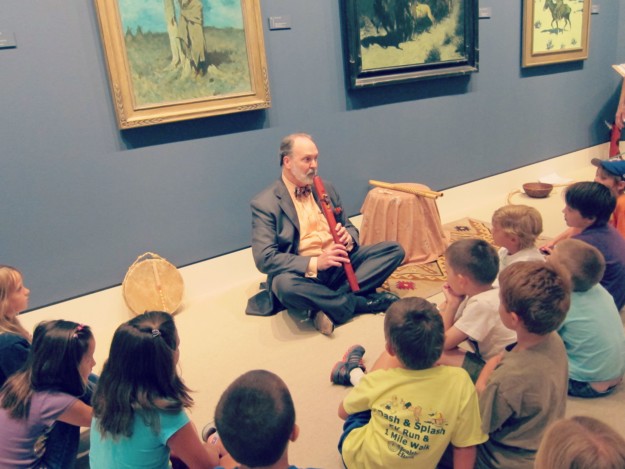 SRM:  What drew you to the Sid Richardson Art Museum?
Mark: One day after returning from out-of-state exile (I'm a native Texan), I looked through the Fort Worth Star-Telegram and noticed a small ad for prospective docents at the Sid Richardson Museum. It sounded interesting, and since I had always liked western art, Remington, and Russell, I thought, "Why not?"
SRM:  What do you want visitors to get out of the tour?
Mark: In addition to observing up close some of the best, original western art, I want visitors to realize that life in early America was significantly different. I try to provide a glimpse into both the historical and cultural context of the subjects depicted in the art, as well as the social and cultural milieu surrounding the artists themselves.
SRM:  What are some of your most memorable tour moments?
Mark: During one of our daily school visits, one student group was told about Indians using every part of the buffalo, and that the hunter who killed the animal got a special prize.  When the docent asked what they thought that prize might be (correct answer: the tongue), one girl suggested, "A buffalo sweater!"
Another memorable moment was in early 2010 when we tested a Saturday program called "Music at the Museum," in which we presented a musical "soundtrack" of the art of the Old West.  We featured music by Stephen Foster (a composer who was popular when Russell and Remington were born), cowboy songs, music of various American Indian tribes, classical music influenced by the West, other genres from the artists' lifetimes, and songs that we know Russell or Remington knew.  As both a docent and a musician, it was fun to research and perform the program.
SRM:  Tell me more about your music research as it relates to the Sid Richardson Museum.
Mark: I'm a musician, and as a result, my main interest at the museum is "the soundtrack of the Old West."  More specifically, I'm interested in American music as it pertains to the SRM collection.  That covers a wide span of music, for example:
Songs that the artists knew, and music that was popular during their lifetimes
Cowboy songs
Military bugle calls
American Indian music transcription and cylinder recordings by 19th century ethnomusicologists
Later "Parlor" or "Tin Pan Alley" songs about Indians, cowboys, cowgirls, and frontier life
Ragtime and blues, as influenced by the West
Classical music of the era (Nocturnes, the Indianists, Dvořák's New World Symphony, 1893)
Over the last few years, I've assembled a fairly large collection of first edition ethnomusicology publications, original sheet music (most with very colorful covers), and references on American music history, as well as several American Indian drums, flutes, rattles, etc., many that I made myself.  Whenever appropriate and possible, I incorporate music into my tours.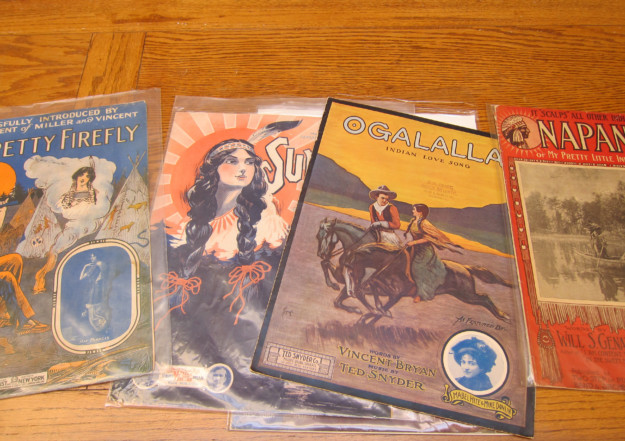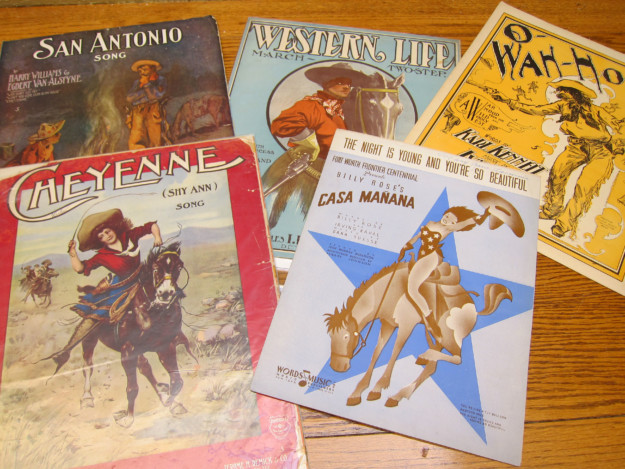 SRM:  What's your favorite part of the job?
Mark: What I have enjoyed most about being a docent at SRM is freedom. We have freedom to pursue our own varied interests, and research any topic that pertains to the museum collection.  We are encouraged to share the results of our research with the other docents, and incorporate interesting new information into our tours.  We also have the freedom (and responsibility) to plan our own tours, taking multiple factors into consideration:  e.g., who the tour is for, what their interests and needs are, and what the classroom activity will be.