Every week our galleries are filled with students, many of whom are experiencing their first visit to an art museum. Thanks to our group of volunteer docents, these children have an opportunity to discover how fun art can be!
Let's continue our "Dedicated Docents" blog series. Today I'd like to feature our docent Ginger.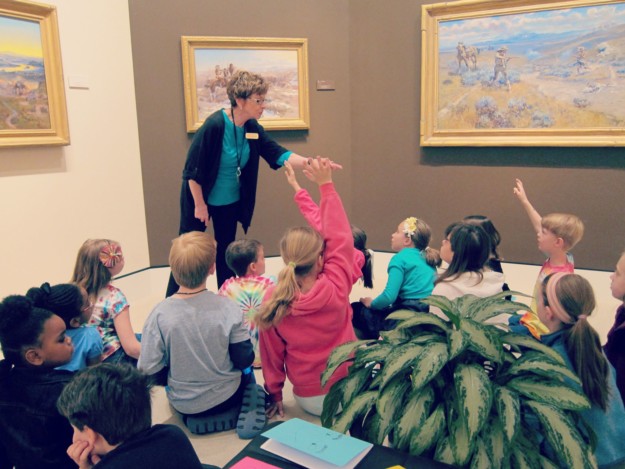 SRM: What drew you to the Sid Richardson Museum?
Ginger: I had been a docent at the Amon Carter Museum in years past and in retirement knew I would enjoy being a docent again.
SRM: What do you want visitors to get out of the tour?
Ginger: I want adult visitors to know and appreciate Sid Richardson – the paintings in his collection, his love of the west, and his interesting life.  I want to offer school children the idea of looking at stories our collection tells, the way the west was and how it has changed, and knowing that they can have fun with art.
SRM: What are some of your most memorable tour moments?
Ginger: Just about any time I see a young hand raised, when a student is so very eager to tell me something they see about the painting.  One of the most rewarding experiences was perhaps a visiting group of visually impaired teens who enjoyed our museum so much and took such an interest in the artwork during our tour.
SRM: How has being a docent changed you?
Ginger: I believe that I am more proud of living in our western city because of what I have learned about the paintings and of the American West.
SRM: What's your favorite part of the job?
Ginger: Getting to know and make friends with our group of docents – people perhaps I might never have had a chance to meet otherwise.  The Sid is my happy place.