For Immediate Release: April 2023
Media Contact: Rachel Trevino, 210-854-8889, rachel@talk-strategy.com.
THE ART OF STORYTELLING COMES TO LIFE IN BRONZE SCULPTURES, WATERCOLORS, OIL PAINTINGS, DRAWINGS, AND MORE BY "ORIGINAL COWBOY ARTIST" CHARLES M. RUSSELL
Charles M. Russell: Storyteller Across Media Opens May 11 at Sid Richardson Museum
FORT WORTH, TX – Opening Thursday, May 11, at the Sid Richardson Museum in Fort Worth's historic Sundance Square, Charles M. Russell: Storyteller Across Media is a new exhibit exploring the art and soul of the American West through the artwork and reflections of famed "cowboy artist" Charles Marion Russell. The exhibit is on view through April 2024 and is free and open to the public.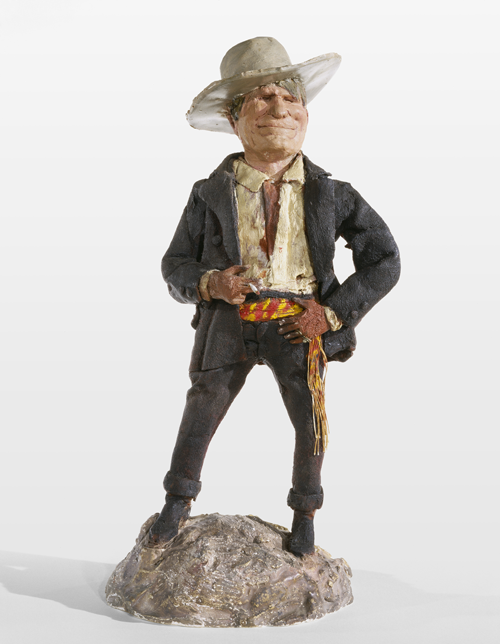 "Over his more than forty-year career, Russell chronicled his beloved west across paper, canvas, bronze, and truly anything he could find to make art out of," said Scott Winterrowd, Director of the Sid Richardson Museum. "Russell adapted stories he heard from his cowboy cohorts, as well as Indigenous acquaintances, turning those narratives into a compelling document of the passing of the old west."
From his early days telling stories around the campfire as a night herder, to spinning yarns for guests on pack rides through national parks, both orally and visually Russell was a master narrator. His humor was drawn from his own life experiences, and from stories that he learned from others. While we cannot experience Russell's storytelling firsthand today, his narratives live on in the more than 4,000 artworks he created in his lifetime.
Though Russell was one of the most successful artists in the 1920s, thanks in no small part to the efforts of his wife and manager, Nancy Russell, he humbly valued his friendships above all else. His infectious humor, gift of narrative, and illustrated "paper talk" letters show a very personal side of the artist. While Russell made art that was for sale, he also made many works that were intended as gifts for close friends, as well as thank you notes for both gifts and hospitality received on travels. A group of works made specifically as part of his friendship with certain individuals will be featured in the exhibit. Other highlights of the more than 30 artworks on view include the artist's sketch box and a sculpture self-portrait made of wax and mixed media – both on loan from the Amon Carter Museum of American Art.
The Sid Richardson Museum holds 52 works by Charles Marion Russell that span his entire career from the early 1880s until the year before his death in 1925. The collection is considered one of the finest of the artist's works.
About the Museum
The Sid Richardson Museum, a Fort Worth art museum located in historic Sundance Square, features permanent and special exhibitions of paintings by the premier Western artists, Frederic Remington and Charles M. Russell. The works, reflecting both the romance and reality of the American West, are the legacy of the late oilman and philanthropist, Sid Williams Richardson. Most were acquired by him from 1942 until his death in 1959. The collection also includes works by Oscar E. Berninghaus, Charles F. Browne, Edwin W. Deming, William Gilbert Gaul, Peter Hurd, Frank Tenney Johnson, William R. Leigh, Peter Moran, and Charles Schreyvogel. Museum directions and hours can be found online at sidrichardsonmuseum.org.