**Researched and written by independent scholar Deborah Reed**
How did the seventh child of an East Texas peach farmer and saloon owner become America's richest man and host to the President of the United States?  Like any good story involving Sid Richardson, one should settle down for a spell of swapping spit over the fence.
The first time Sid Richardson hosted a president was in the summer of 1937.  President Franklin D. Roosevelt left Washington for a fishing trip on the Texas coast Friday, April 30.  However, Richardson's part of the story starts much earlier with meeting the President's second son, Elliott.
Elliott Roosevelt and his friend, Ralph Hitchcock left Washington DC four days after FDR's second inauguration in March 1933. Spotted by an Associated Press reporter in Little Rock, Elliott was questioned about his plans. He said they were driving cross country, planning on visiting Texas, Arizona and finally Los Angeles.  The reporter asked if he planned to buy a ranch in Texas, Elliott responded, "It takes money to buy a ranch.  I haven't that money.  I'm looking for a job."[1] Meeting some oilmen at his next stop in Dallas, the wildcatters invited the two young men to Fort Worth to see the annual Fat Stock Show. 
During one of the nightly rodeos, March 11, 1933, the oilmen introduced Elliott to more independents, including Sid Richardson.[2]  As the President's son and guest, Elliott and Ralph were invited to several parties in conjunction with the Stock Show.
Elliott later wrote;
 "I met Charles Roesser [sic], whose wells were earning him some money, and Sid Richardson, who had none, since the holes he was drilling seemed fated to be dry.  Both men, along with another, Clint Murchison, whom I met later, were to show a certain interest in my career while Father was in the White House.  I was vaguely aware that I was being sized up as a prospect.  A real courtship would follow."[3]
Elliott Roosevelt and Richardson did become close friends.  Elliott was always willing to trade on the family name to advance himself in business and he made a conscious effort to meet and maintain friendships with wealthy individuals.  Richardson liked the young man and understood that helping him would be a conduit to the President's ear and perhaps a chance to help steer government policy in favor of the oilmen.
In October 1936, after helping Amon Carter fundraise for the 1936 Fort Worth Frontier Exposition, Elliott went tarpon fishing off Port Aransas where he met Barney Farley, a local fishing guide well-known to Texas politicians and wealthy game fishermen.  Barney and Richardson were old friends and it is possible that Richardson set up the introduction. Elliott enjoyed the trip and when Barney suggested that he invite his father down to fish, Elliott agreed and passed along the invitation.[4]
Barney Farley's fishing memoir opens with a chapter describing his time fishing with President Roosevelt.  It begins;
"I was sitting on a wooden carton in my tackle store, drinking a coke with my friend Sid Richardson, when Elliott Roosevelt walked in.  He came over to us and said, 'Let's go up to your house Barney.  I have some telephone calls to make and want to be private.' On the way to the house, Elliott broke the good news that his dad was coming to fish and Barney had been selected to be his guide". [5]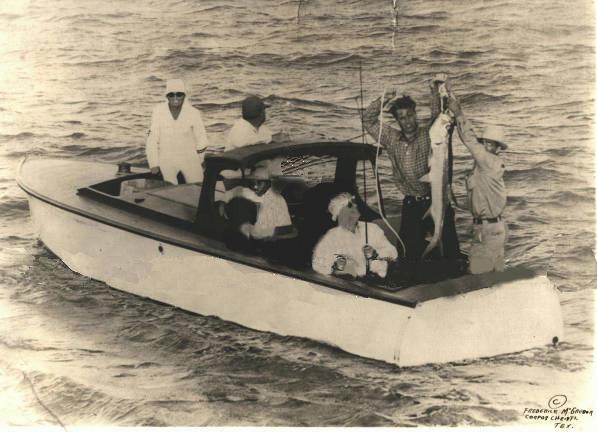 FDR and his entourage left Washington by train about midnight April 27.  They made stops in Greensboro and Biloxi, transferred to a car to Gulfport,then boarded another train to New Orleans.  After lunch at the famous New Orleans' eatery Antoine's, FDR dedicated a new spillway for flood control and a charity hospital, two projects built with WPA money, then boarded the USS Moffit which took the party to Port Aransas where the smaller USS Potomac was waiting.[6]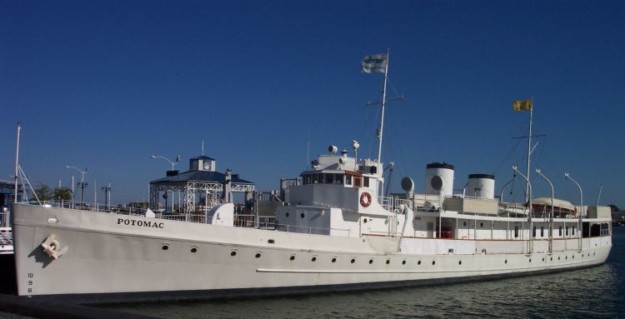 After a few days of fishing, by Friday, May 7, Sid Richardson hosted the President and his guests with a tour of his game preserve on St. Joseph Island to be followed with lunch at Clint Murchison's home on Matagorda Island.[7] 
Barney Farley, FDR, Elliott and Ruth Roosevelt went to St. Joseph on one boat.  Richardson brought the rest of the president's party on the Saltaire.  Once they arrived, we have Barney Farley's description of an unanticipated problem.  Arriving in the morning, they realized it was going to be difficult to get FDR onto the island as there was no proper dock.  There was however a cattle chute and Richardson proposed wheeling the President onto it. 
According to Barney, "The President exploded, 'What in the world—Sid do you mean you're going to roll me down that bull chute?'"  To which Sid replied, "'Why, Mr. President, you're the biggest bull that ever went down that chute!'"  And down the chute they went.[8] 
Riding in several cars and led by Richardson, the group took a 20-mile trip around St. Joseph to see the wildlife, including Richardson's longhorn cattle, buffalo and another section that he kept for hunting deer, turkey and other game. 
The shallow Cedar Bayou separated the two islands and at low tide, one could drive a car across a sandbar between them, and this is how Richardson led the caravan to Matagorda and the Murchison home on roads made of crushed shell.
The group was welcomed to Clint Murchison's 13,000 square foot home with trays of mint juleps on the veranda. Only one first-person account survives of this lunch.  "Pa" Watson wrote in the official log, "The party had a grand time—lots of fun." [9]  After lunch, some of the group hunted jackrabbits.  FDR reciprocated with dinner for the party on the Potomac that evening including Richardson, Murchison, Toddie Lee Wynne and John Golding (Murchison associates), plus Mrs. Roosevelt's friends.
From the time they spent together, FDR liked Richardson's folksy but knowledgeable manner.  Like many Western leaders, FDR expected another war in Europe and if the U.S. was drawn in, oil production was going to be a huge factor in America's ability to prosecute the war.  Two weeks later, Richardson was invited to lunch at the White House where FDR asked for Richardson's take on the capacity and availability of oil and refineries in Texas.  The president said he didn't trust the information he was getting from big oil company executives.[10]  By seeking information from a successful wildcatter, FDR was getting a more nuanced picture of potential production and delivery.
Richardson's most historically important visit with President Roosevelt took place Sunday, December 14, 1941, a week after the Pearl Harbor attack.  A few days earlier, Richardson, Perry Bass and his new wife Nancy were quail hunting on St. Joseph Island.  When they returned to the house for lunch, servants told them about the attack from radio reports. 
The island had no telephone service and the nearest one was a pay phone outside a gas station just off the beach at Rockport.  That's the number Richardson gave people who needed to find him while he was on the island.  Thursday, the White House called the pay phone and invited Richardson to lunch on Sunday in order for the President to ask about oil production. 
The owner of the gas station sent a boy in a boat to the island to deliver the message.  Richardson hurried off the island the next day and headed to the train station in Dallas.[11]
Over lunch on Sunday, Richardson spent an hour and twenty minutes with FDR.  The President's other appointments that day were with Secretary of War, Harold Stimson, Navy Under-Secretary James Forrestal and the Ambassador of the Soviet Union, Maxim Litvinov.[12] The amount of time the President spent grilling Richardson about oil reserves and production is evidence of the importance he placed on this information for the upcoming conflict.  The next day, Germany declared war on the United States and FDR continued to summon Richardson during the war to get updated information.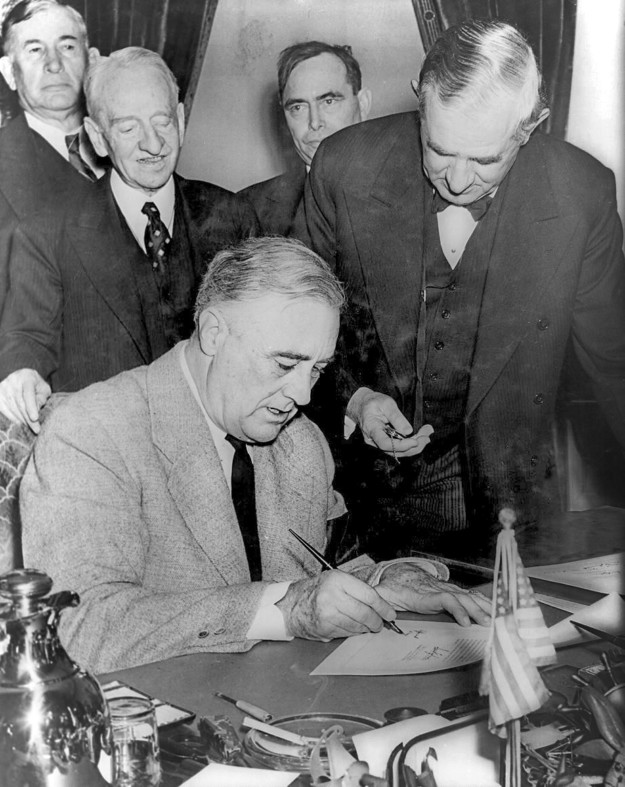 ---
[1] Burrough, Bryan, The Big Rich; The Rise and Fall of the Greatest Texas Oil Fortunes (New York: Penguin Books, 2009), 140.
[2] Burrough, Big Rich, 139.
[3] Burrough, Big Rich, 140.
[4] Port Aransas and Rockport were then nationally famous for the abundant tarpon and other game fish.
[5] Farley, Barney, "President Roosevelt as I Knew Him," in Fishing Yesterday's Gulf Coast (Corpus Christi, TX: Texas A & M Press, 2008), 3.
[6] "Franklin D. Roosevelt, Day by Day", April 30, 1937, accessed April 17, 2019, http://www.fdrlibrary.marist.edu/daybyday/event/april-27-1937/ .
[7] St Joseph Island was sometimes called St. Joe, now it is known as San Jose Island.  These are long, slender privately-owned barrier islands off Rockport.
[8] Farley, Fishing, 10.
[9] Alan Peppard, "The Islands of the Oil Kings," Dallas Morning News, December 4, 11, and 18, 2014, Part 1.
[10] Burrough, Big Rich, 143.
[11] Burrough, Big Rich, 144.
[12] "Day by Day", December 14, 1937.