In 1907, Charlie Russell painted Utica, also known as A Quiet Day in Utica, a scene that is anything other than quiet. This work was a commission by the Lehman family, who had owned the general store in Utica, Montana. By this point, the family had moved to Lewistown and were wanting their former customer, the now-famous cowboy artist, to paint a picture to be used on a calendar to advertise their family store in Lewistown.
Every figure in this painting is said to be identifiable, but today I want to focus on just one. In the doorway of the general store is the owner, Charles Lehman. Next to him on his right is an African American woman, Millie Ringgold, a freed slave and prospector in the area.
Millie Ringgold was a gold prospector, boarding house proprietor, and long-time resident of Yogo City, just down the road from Utica. How did this self-made businesswoman find her way to central Montana?
Millie was born a slave near Chestertown, Maryland in 1845. It's likely that she remained a slave until Maryland finally abolished slavery on November 1, 1864. After spending time in the D.C. area as a nurse for the military and working for a family, she boarded a steamboat in 1878 and traveled up the Missouri, landing in Montana. Two years later, Millie joined the Yogo gold rush in the Little Belt Mountains in Central Montana.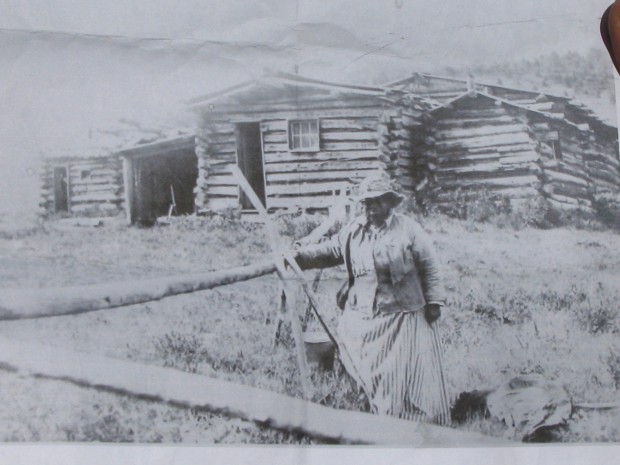 After settling in Yogo City, Millie opened a boarding house, where she experienced profitable business until the gold rush boom went bust in the early 1880s. Despite this bust, Millie continued to run her boarding house. It's said that any traveler who wrote about Millie raved about the immaculate house and dining room, which was complete with white linen and polished silver. Even though the town was nearly deserted, she kept her boarding house in good shape.
In addition to running her boarding house, Millie supplemented her income by washing for prospectors, raising some chickens and turkeys, and cooking or nursing for ranchers from time to time. If money was tight, Millie relied on the aid of her cat, George Washington. The cat could catch a rabbit for both Millie and her cat to enjoy.

The 1900 federal census listed Millie Ringgold as a prospector-owner. She never lost faith in the Yogo mines. Until her death in 1906, she continued to live alone and work her mining claims in Yogo City, sometimes hiring the help of an African American man, believed to be Abraham Carter, the only other black resident of the Yogo District listed in the 1900 census.
Likely to have encountered Ms. Ringgold during his early days in the Judith Basin, Charles Russell paid tribute to Millie Ringgold in his 1907 painting.