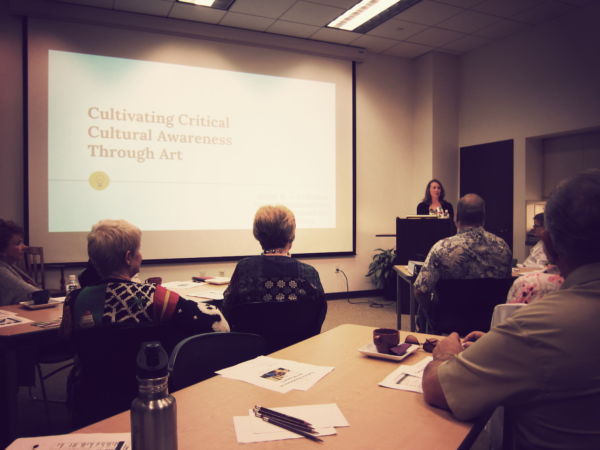 The end of the year is a time for reflection and review. In the education department, much of our attention has been on training a new class of docents at the Sid. Over the course of 13 weeks we have learned so much. Scholars from near and far have taught us about the background of two iconic artists of the American West, Frederic Remington and Charles Russell, as well as the history surrounding the time period in which these two artists lived and worked.
Educators and psychologists have opened our eyes and minds to the experiences of our visitors whether through differences in culture, language, or age. Staff has guided our new teammates through the nuts & bolts of crafting and leading tours, providing an opportunity for each docent in training to practice their new skills. And I'm happy to announce that we have nine talented new docents ready and willing to help share the Sid Richardson Museum with you, our visitor!
We recently celebrated the contributions of all of our docents this year at our Annual Docent Luncheon. Andrea Hassenteuffel, Director of School and Family Programs, took a moment to reflect and share our gratitude and appreciation for this amazing group of people who volunteered countless hours to serving our community and sharing Sid's great collection with such a wide and diverse audience.
In thinking about each docent individually, Andrea imagined what Sid would think if he were alive today. Then she pondered, what qualities do Sid and our docents have in common? Using Sid W. Richardson's name as a guide, Andrea found just the right words that not only describe Sid but our docent team.
Self-less
Innovative
Dedicated
Willing
Reliable
Intelligent
Cool & calm
Hospitable
Able
Ready
Diligent
Sincere
Open-minded
Noteworthy
All together, these individual talents create a pretty amazing team. Thank you, docents, for all you do for the Sid Richardson Museum. And congratulations Docent Class of 2016!