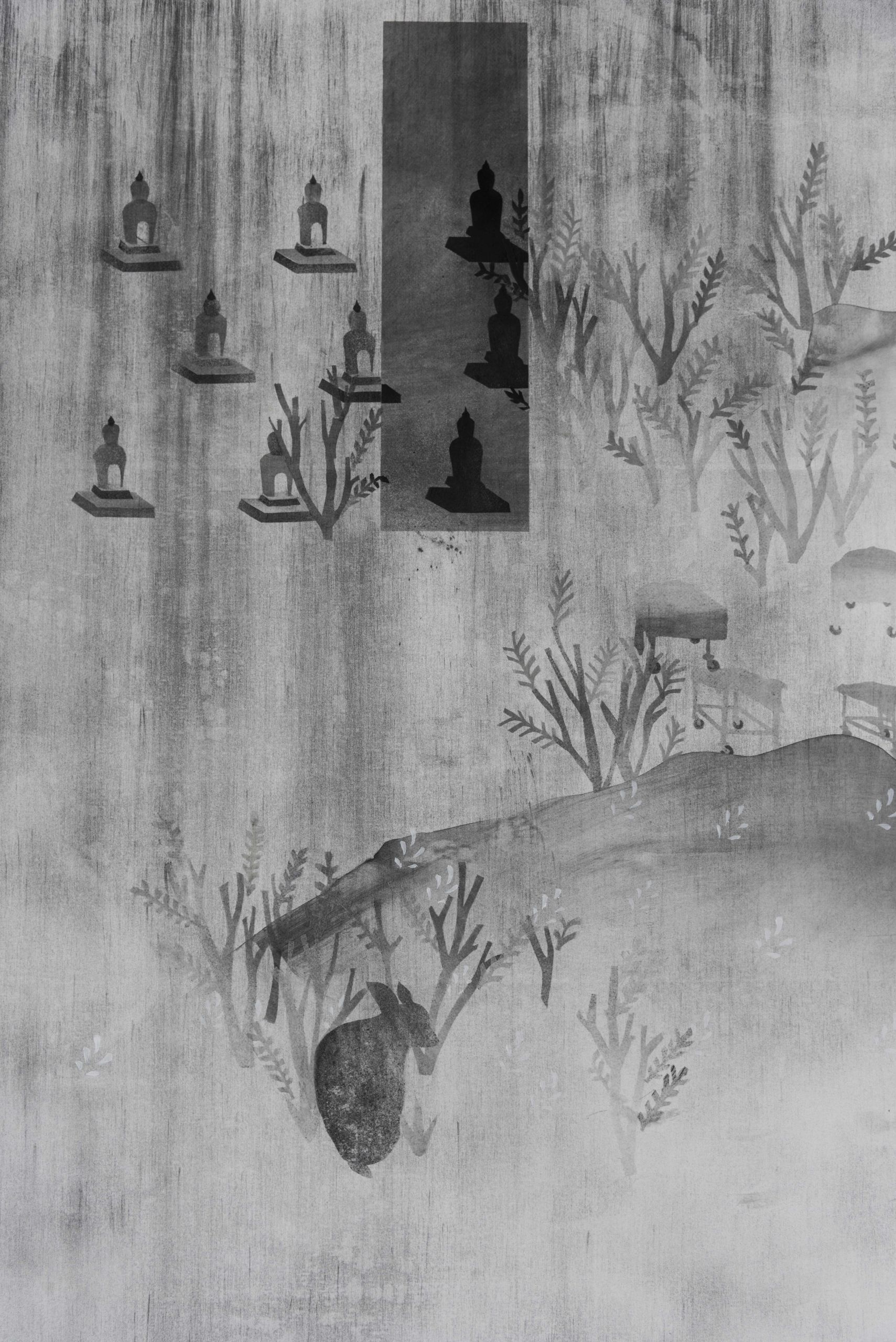 Sid's Studio: Drawing with Cut-Outs
In this three-session adult workshop led in person by local artist Dan Jian, each participant will create a landscape drawing using charcoal dust through the process of cut-outs. First students will identify an image motif, then draw with charcoal pencil and dust, and finally, use scissors, an X-Acto knife, and glue to create a personal and introspective landscape inspired by the Sid Richardson Museum's collection of paintings set against an American West landscape.
Format
This multi-day workshop takes place over 3 consecutive sessions in the museum's studio classroom:
Saturday, April 9 @ 1:00-3:30pm
Saturday, May 7 @ 1:00-3:30pm
Saturday, June 4 @ 1:00-3:30pm
Supplies
The museum will provide each student all necessary art supplies and tools during class .
Cost
$45 Supply Fee
Artist
Dan Jian is a visual artist who works across painting, drawing, and animation.  Originally from the mountain region of Hubei, China, Dan Jian came to the United States at the age of nineteen and started her education as a math major in a community college.  She received her BFA from Temple University in 2012 and an MFA from the Ohio State University in 2016.  Dan currently lives in Fort Worth, Texas, as an assistant professor of art at Texas Christian University while maintaining an ongoing studio practice.
Dan's solo and group shows have been exhibited nationally across the US and internationally in China, Italy, and Korea.  Her awards and endorsements include a recent RCAF project grant from Texas Christian University, Certificate of Merit from the Philadelphia Watercolor Society, Arts and Humanities Research Grant at Ohio State University.  She is also a residency alumnus of Ragdale Foundation, Vermont Studio Center, Virginia Center for the Creative Arts, Kimmel Harding Nelson Center for the Arts, and Finalist for the Don Bachardy Fellowship in London UK.
NOTE: For the safety of our guests and staff, we require that you wear a face mask covering the mouth and nose at all times while in the museum.
Registration: Required – Opens March 1
Ages: 18+
Contact: Leslie Thompson at lthompson@SidRichardsonMuseum.org or 817.332.6554 if you have any questions or would like to be added to the waitlist when registration is full.